Monkees at Billboard Live
Content and programming copyright 1996 Cable News Network.
Transcribed under license by Federal Document Clearing House, Inc.
Formatting copyright 1996 Federal Document Clearing House, Inc.
All rights reserved.
No quotes from the materials contained herein may be used in any media without attribution to Cable News Network.


CNN SHOWBIZ TODAY
November 21, 1996
Monkees Reunite for New Album; Tour To Follow
Sherri Sylvester, Jim Moret
The Monkees reunite to make a new album. The group will do a concert tour and a documentary on the Disney Channel.
JIM MORET, CO-HOST, SHOWBIZ TODAY: This has been quite a year in music. We got another couple volumes of Beatles Anthologies, and not to be outdone, those other four guys from the '60s, The Monkees, known as the pre-fab four, are out with a new release. They said they'd never reunite, but they did. Sherri Sylvester got an earful of their music in Los Angeles.
SHERRI SYLVESTER, CNN ENTERTAINMENT NEWS: Thirty years ago, long before MTV, The Monkees made music television a reality.

SYLVESTER: Davy Jones, Micky Dolenz, Peter Tork, and Mike Nesmith have not played in concert together since 1969. Back then, they remember singing on stage, even though they did not play their instruments.
DAVY JONES: We did about a hundred concerts in -- when we first started out, and we played to 20,000 seaters, and we couldn't really hear a thing, you know. We didn't know what we were doing really.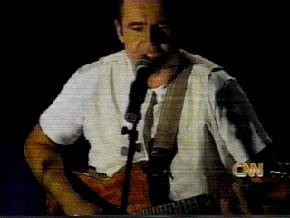 MICKY DOLENZ: I was probably scared to death and just couldn't hear anything and just closed my eyes and went, "Aaaah!"
SYLVESTER: But young fans made Monkee business big business.


1ST MONKEES FAN: My parents for Christmas bought me maracas and a tambourine, and I'd just stand in the front of the TV series and sit and play like I was Davy Jones when I was 6.
2ND MONKEES FAN: I had a cutout Monkees record off the back of a cereal box. I remember cutting it out and playing it on my little 45 close-and-play phonograph.

3RD MONKEES FAN: I'm a second-generation fan, caught the show in syndicated reruns in the mid-'70s.
4TH MONKEES FAN: Oh, I run the home page on the Internet.
SYLVESTER:Oh, you do?
4TH MONKEES FAN: The Monkees' Web page, yeah.



SYLVESTER: As they took to the stage for this, their first reunion concert, they sang as men who have spent the past three decades going in different directions.

PETER TORK: It's wonderful. You play these notes, and the stuff hits you from behind, and the bass pushes you, and the crowd pushes you back, and -- flatter than a pancake. It was a great.

SYLVESTER: They sang songs from their new album, JustUs, the only album they produced and performed on their own.
SYLVESTER: For those who long for the early days, a new CD ROM features Monkee games, music trivia, and even shots of an unknown Jack Nicholson who wrote The Monkee movie, Head.

Back in the days of vinyl, The Monkees sold 16 million albums. In one year, 1967, they had four albums hit number one. That was the year that they really did outsell The Rolling Stones and The Beatles.

MICHAEL NESMITH: Anytime the four of us get together, The Monkees come alive, and I'm a Monkees fan. I just love -- I love the whole dynamic of that show.

SYLVESTER: Their reunion includes more concert dates, a coffee table book, and a documentary on the Disney Channel.
Sherri Sylvester, CNN, Los Angeles.

Back to the In Concert Page