Photo base of logo © Henry Diltz
As you know Micky has appeared on a great number of Monkees albums, Monkees Greatest Hits and Compilations. A complete listing of those albums would overwhelm this page. For a full list of those albums check out the Monkees FAQs
Singles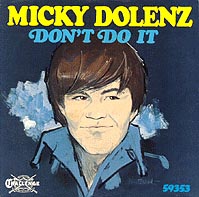 Don't Do It / Plastic Symphony III
Challenge 59353 (2/67) [PS]

A-side recorded in 1965

B-side is instrumental, and does not feature Micky.

Huff Puff / Fate

Challenge 59372 (2/67) [PS]

A-side recorded in 1965

B-side is instrumental, and does not feature Micky.

Easy on You / Oh Someone

MGM K-14309 (10/71)

A Lover's Prayer / Unattended in the Dungeon

MGM K-14395 (6/72)

Johnny B. Goode / It's Amazin' To Me

Lion 132 (10/72)

Credited to "Starship," and featuring Michael Lloyd

Daybreak / Love War

Romar RO-710 (1973)

The promo and stock copies feature different mixes of "Daybreak."

Buddy Holly Tribute / Ooh She's Young

Romar RO-715 (1974)

Lovelight / Alicia - Chrysalis

(UK) CHS 2297 (3/79)

To Be Or Not To Be / Beverly Hills

Jam (Japan) J-8112B (1/82)

Tomorrow / Fat Sam's Grand Slam

A&M (UK) Bugsy 1-AA (5/83)

Don't Do It '86/Don't Do It '86 (dub)/Don't Do It '86 (instrumental)

Domain (1986)

A cheezy attempt to cash in on the 1986 Monkees reunion, this is the 1965 Challenge recording with "modern" synth, guitar and drum tracks dumped on top.

Albums
Micky Dolenz Puts You To Sleep

Kid Rhino [CD] R2 70413 (1992)


Pillow Time
Dream A Little Dream
Beautiful Boy
Blackbird
Lullaby To Tim
Fool on the Hill
Good Night
St. Judy's Comet
The Moonbeam Song
Remember
Sugar Mountain
The Porpoise Song
Broadway Micky

Kid Rhino [CD] (1994)


Supercalifragillisticexpialidocious
Talk To The Animals
Somewhere Out There
Put On A Happy Face
You're Never Fully Dressed Without A Smile
Never Endign Story
My Favorite Things
Ease On Down The Road
I Whistle A Happy Tune
Chim Chim Cher-ee
Me and My Arrow
When You Wish Upon A Star
Demoiselle

Dolenz Productions (1998)

It's the Season
Never Enough
Dying Of A Broken Heart
Regional Girl
Not That Bad
Lonely Weekends
Piston Power
Beverly Hills
Since I Fell For You - Live



King for A Day

Red General (2010)


Don't Bring Me Down
Sometime in the Morning
Hey Girl
Up On the Roof
Take Good Care of My Baby
Will You Love Me Tomorrow
Sweet Seasons
Crying in the Rain
Go Away Little Girl
Just Once in My Life
It Might As Well Rain Until September
Point of No Return
I Feel the Earth Move
Sometime in the Morning (reprise)



Remember

Xenon (2012)


Good Morning, Good Morning
An Old Fashioned Love Song
Diary
Many Years
Sometime In The Morning
Quiet Desperation
Randy Scouse Git
Johnny B. Goode
Magic To Do
Sugar Sugar
Do Not Ask For Love
I'm A Believer
Unlucky Stars
Remember



A Little Bit Broadway, A Little Bit Rock & Roll - Live at 54 BELOW

Broadway Records (2015)


Intro: Hey Micky
D.W. Washburn
Intro: A Little Bit Broadway, A Little Bit Rock & Roll
Last Train to Clarksville
Intro: My Party Piece
Don't Be The Bunny
Intro: To see or not to see
Mister Cellophane
Intro: Russian clouds
But Not For Me
Intro: Brilliant Brill Building
As We Go Along
Intro: Hey Monkee Man...
Oh Darling
Intro: I'm told I had a great time
Randy Scouse Git
Intro: You should be so lucky....
Some Enchanted Evening
Intro: Shrek Schmek
I'm A Believer
Intro: Run Silent, Run Monkee
Pleasant Valley Sunday
Intro: Don't sing along; it puts me off
Daydream Believer
Intro: One foot on the dock, one on the boat....
One of the Good Guys
Intro: These guys are really good, too
Goin' Down
Pure Imagination




Guest Vocals
As a great vocalist, Micky has lent his voice to several other audio projects.
"Memoirs of a Sword Swallower"
by Dan Mannix, abridged by Paul Wetherby. BBC Radio Collection (1990). BBC Enterprises Ltd. Cat # ZBBC 1157.

This is an audio book read by Micky
Stranger Things Have Happened
Peter Tork's 1994 album, Micky does the backing vocal (along with Michael Nesmith) on the song "Milkshake"
Eddie is A Punk
Brandon Cruz's 1998 album, Micky provided the backing vocals on the song "Best Frieds" (the theme from Courtship of Eddie's Fater. It is available from Taang! Records (#141cd) at http://www.taang.com/

Songwriting Credits
In addition to providing the vocals for a number of Monkees and solo songs, Micky was also the songwriter. His first attempt at writing was Randy Scouse Git that appeared on the Monkees third album Headquaters. And beginners luck was with him as the song was a hit in both the US and the UK. Below is the full listing of all the tunes written by Micky.

Alicia
Beverly Hills
Bye Bye Baby Bye Bye

with Ric Klein
Don't Do It
Dyin of A Broken Heart
Easy On You
Goin' Down

with Diane Hilderbrand, Peter Tork, Michael Nesmith & Davy Jones
It's Amazing To Me
It's My Life
Just A Game
Little Girl
Love War
Mommy and Daddy
Midnight Train
Never Enough
Ohh She's Young
Randy Scouse Git
Regional Girl
Rosemarie
Shorty Blackwell
Unlucky Stars
You and I

with Davy Jones